Successful utilization of bilateral above knee prosthetic systems is very individualized and comes in many different forms. Individuals that experience bilateral above knee limb loss share a common goal; they are seeking a way to regain their lost mobility and function. Many have had incredible success by following our unique and customized approach to becoming a full time prosthetics user. Far too many individuals with bilateral above knee limb loss have experienced unsatisfactory results when following a traditional approach to utilizing prosthetics. Our approach maybe considered unorthodox, but it has truly opened the door to an incredible level of function and mobility many never thought was possible. That is why we created Dream Team Prosthetics LLC and continue to prioritize functional outcomes as our number one goal for our patients! Here we will share some thoughts from our patients in their own words. 
---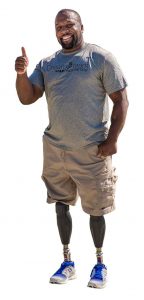 If you are a bilateral above knee amputee these are the guys you need to go. Prior to meeting these guys I thought being a part time prosthetics user was the norm...Meaning having my legs on part of the day and other half using a wheelchair. Their philosophy is to be a full-time prosthetic user and substitute a chair with stubbies (short legs). Honestly it took me a while to get on the same page as them because I set my mind up that a wheelchair will be my life.
Once I got on board, I ditched the wheelchair and dedicated myself to be a full-time user. I now can walk distance which I felt was impossible to walk...I travel by myself without a chair...and most importantly I dont have to call a restaurant prior to going there to ask them if it's handicap accessible with a wheelchair ramp...
The way their skin sockets are made, it feels like it's part of me...I'm able to feel certain things while walking...the best thing and the reason why I travel hundreds of miles (rather than go down the street to my local prosthetic company) to Dreamteam is the way they align my sockets which allows me to walk down ramp, curbs, and walk fluidly.
I highly suggest if you are a bilateral above knee amputee...GIVE THEM A TRY. It will be different then the other guys because they give you real life experience and tough love...ALL WORTH IT!!
Pierre Lucian
Atlanta, GA
I am Alejandro Chamba, in 2013 I became a (BAKA) Bilateral Above Knee Amputee after a car accident. In 2014 I started to look for other amputees like me. I wanted to go back to my life before my accident. So I searched on the net for other BAKAs, and I found many. Some decided to give up and sit on a wheelchair for the rest of their lifes, other were walking, but using canes, crutches, or walkers, and they were walking part time only, and then I found many that were doing just great walking, running, driving without any assistant device, so that made me just happy, cause I knew that it was possible for me too.
I started to talk with these amputees and I asked them what was the key of their success and they all had something in common, the greatest more experience prosthetist not only in USA but worldwide, cause many of his patients come from many countries to USA for him and his name is Chad Simpson. At that moment I knew that I had to do everything to go with him.
After two years of fighting with my insurance I was finally approved to go to (Dream Team Prosthetics LLC) in Duncan, Oklahoma and get my new set of sockets and prosthetics with Chad. When I got to his brand new clinic, Dream Team Prosthetics, I was treated like family even though I went to see Chad in Duncan, Oklahoma from Queens, New York.
Chad and the rest members of the clinic made me feel like home, Chad fitted me perfectly my new direct skin fit sockets and Cleg-4 knees. He was very patience and answered every question I had in mind.
I could see why he is the best prosthetist in the world, now I'm working on my new sockets that feel like part of my body and my knees well program that make everything easier thank you Chad Simpson for being the best for us BAKAs
Alejandro Chamba
New York, NY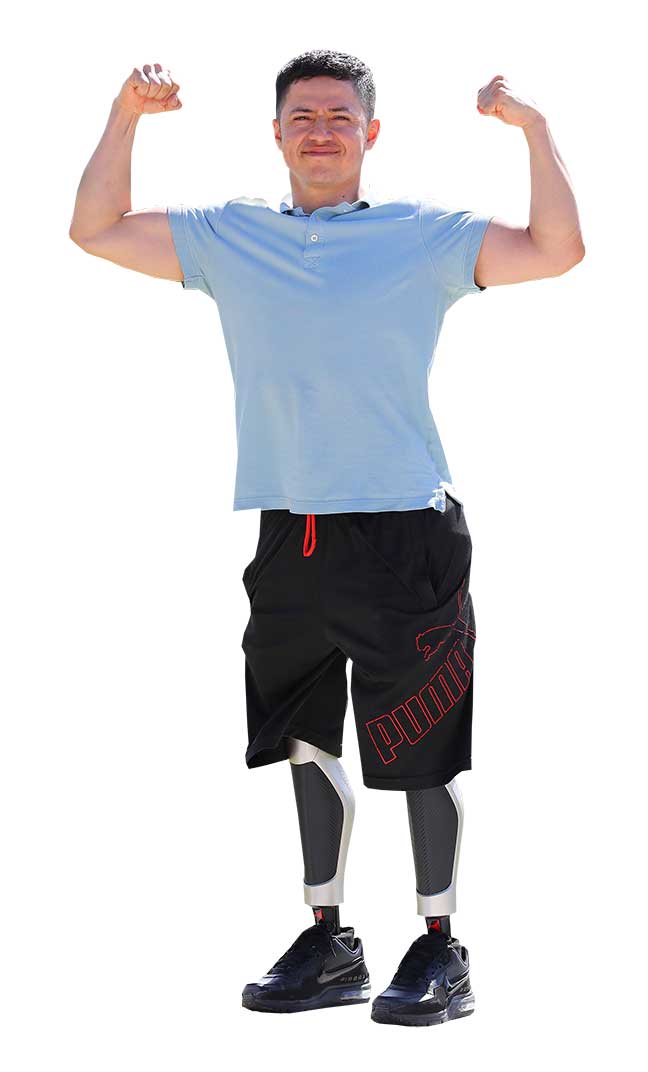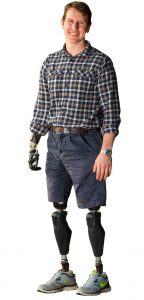 Chad Simpson and Randy Richardson are the too most competent prosthetic clinicians I have worked with over the past 7 years. I have particularly challenging residual limbs but high ambition and they have been able to deal with the former and support the latter. Not only are they exceptional at their role, they are also exceptional human beings, dedicated and caring! Thank you!
Capt. Jonathan White
Devon, England
This is a top notch prosthetic facility. The patient care is the best you can find, and you will always come home happy with your care. I have been to the facility multiple times and have had an amazing experience every time. I would highly recommend Dream Team Prosthetics to anybody in need of prosthetic care.
Colby Liston
Tampa, FL